Luxury Barnet Kitchen Design & Installation
Barnet Kitchen Design Experts in British and German Kitchens
When it comes to finding Barnet kitchen design experts, Sia Kitchens is the perfect choice! Our services include high-quality kitchen design and installation, with a team dedicated to delivering your dream kitchen look and layout. We value your input and will collaborate with you at every step of the kitchen design process, fully tailoring our recommendations according to your lifestyle, taste and budget expectations.  
Tailored Kitchen Design Near Barnet
At Sia Kitchens, we understand that every client has unique kitchen wants and needs and we have a wide choice of bespoke German and British kitchen furniture, among which you're sure to find the perfect choices which truly reflect your vision. We also offer guidance on the best style, colour, fixtures and appliances for your kitchen habits, as well as advice on finishes to meet your budget. For your convenience, our Elstree kitchen showroom near Barnet showcases a diverse range of kitchen styles and layouts, making it easy for you to find inspiration and take the first step toward your perfect new kitchen.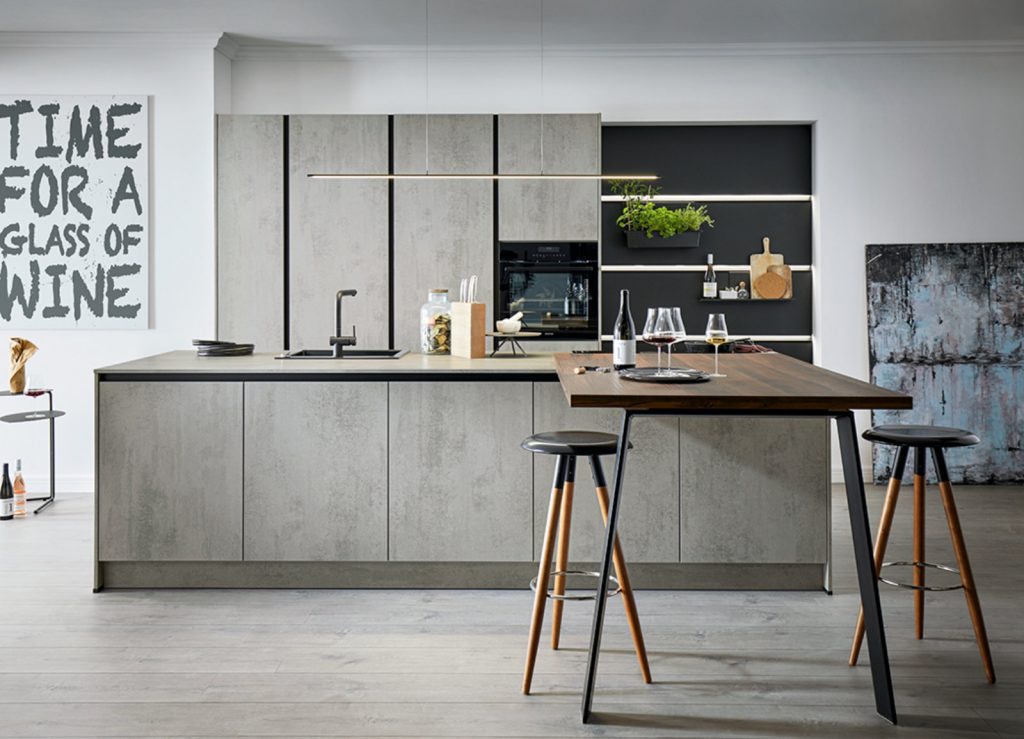 Personalised Kitchen Design Near Barnet
At Sia Kitchens, we know how important it is to get your kitchen exactly right, as you'll be spending lots of time there, whether cooking, eating, spending time with family, or simply enjoying a glass of wine. But we also know it can be difficult trusting someone with the process of planning a new kitchen. Our Barnet kitchen designers have years of experience in the industry, allowing them to give high-quality advice on every single aspect of the kitchen planning process. From which style and layout to choose to which door handles would look best to complete your desired look, we've got you covered.  
Guiding you throughout the design process we know exactly the right questions to ask to determine how you'll use your kitchen and what kitchen style and layout would best suit your lifestyle. We can also help you throughout the kitchen installation process by providing expert craftsmen who have regularly work with our trusted brands and who can fit your new kitchen according to its exact requirements. Our Barnet kitchen installation team can take care of everything while you relax and enjoy your stress-free kitchen planning experience!
Expert Advice on Kitchen Appliances
As well as kitchen furniture, our Barnet kitchen design experts possess the technical knowledge and professional experience necessary to help you choose the ideal kitchen appliance models for your new kitchen. We have a comprehensive understanding of the different features of each appliance, and as such we are able to suggest which products will best suit your lifestyle and budget. Our team will help you to determine which appliances will work best with your new kitchen, including ovens, hobs, dishwashers, refrigerators and more.  
Not everyone needs the latest state-of-the-art technology when it comes to appliances. For example, if you're not an avid cook, we'll suggest kitchen appliances based on your lifestyle and needs rather than ones with the most advanced features. We prioritise your input and will also take your budget into account, ensuring that you get the best value for your money. Our wide array of kitchen appliances is characterised by style, functionality, unique design and superior quality, and we will customise our recommendations to suggest the best options for you.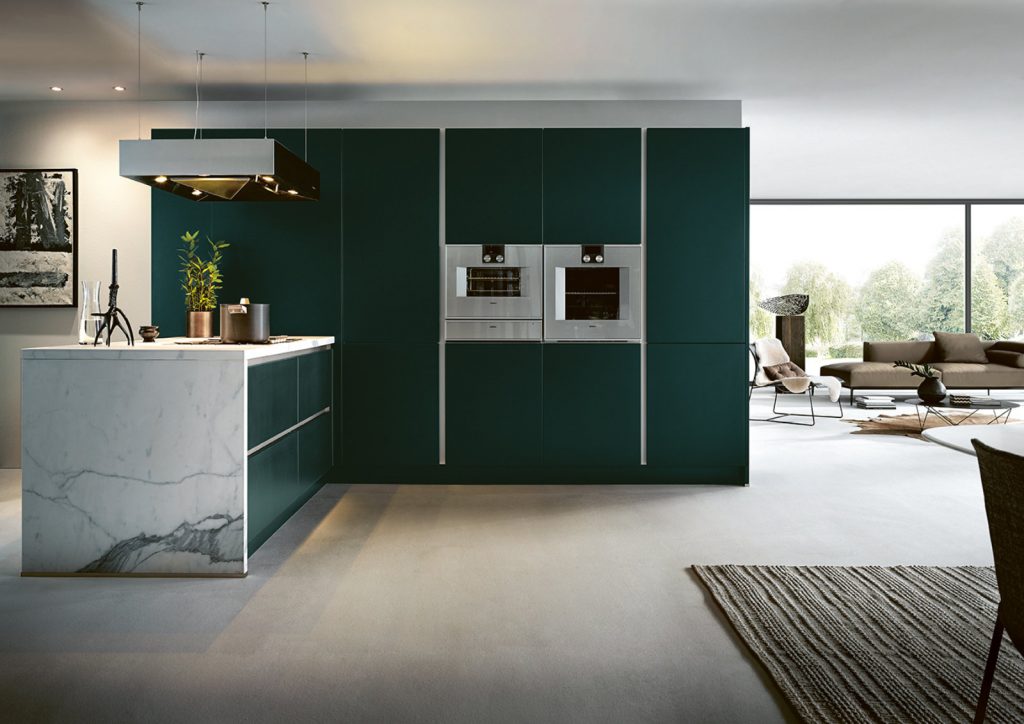 Our Barnet kitchen design experts can offer advice on every aspect of your new kitchen design, including elements that are often overlooked. The importance of finding the right lighting for your kitchen cannot be overstated, since good lighting will make your chosen colours pop, and it's also massively important in terms of being able to easily carry out tasks in your kitchen! At Sia Kitchens, our Barnet kitchen design experts will ensure that you find the perfect task lighting to sufficiently illuminate your kitchen while cooking, as well as ambient and accent kitchen lighting.
Task lighting is important in terms of lighting work surfaces so that you can always see exactly what you're doing. This lighting can be cleverly integrated into areas such as bottom shelves of wall units, where it doesn't attract too much attention when not in use. Ambient lighting is crucial in terms of setting the right mood for your kitchen, and can make the difference between a welcoming and a cold kitchen space. Depending on your preferences and kitchen design, we'll determine which type of ambient lighting will work best for you.
Find The Perfect Style For Your Barnet Kitchen
With so many different kitchen styles, layouts and materials to choose from, it can be difficult to determine which is the right one for you. At Sia Kitchens, you can rest assured knowing that our Barnet kitchen design team can deliver the perfect kitchen style based on your preferences and habits. Our range includes a variety of kitchen styles such as modern, Shaker and handleless. We also offer traditional and country-style kitchens for those seeking a more classic kitchen feel. With so many options to choose from, you're sure to find a kitchen style that aligns with your desired aesthetic.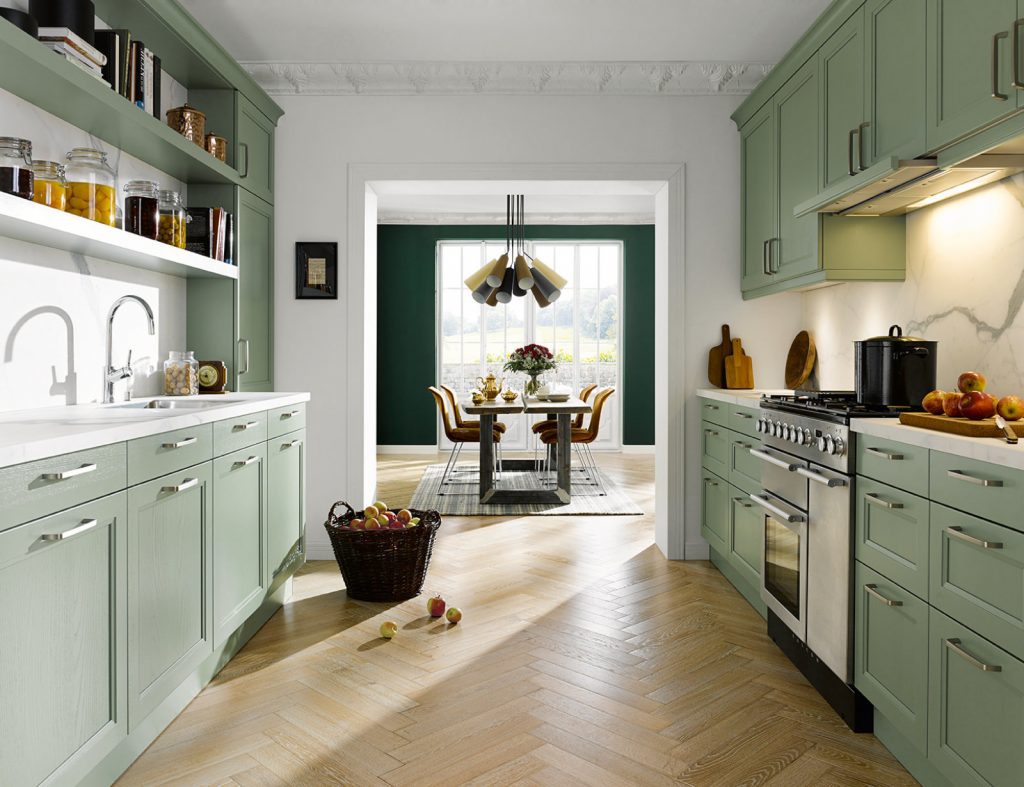 Visit our Elstree Kitchen Showroom Near Barnet!
Make the short trip from Barnet to our luxury kitchen showroom in Elstree, Hertfordshire, and we guarantee that you won't be disappointed! With Sia Kitchens, this can be the exciting first step in your journey towards a new kitchen. Our friendly Barnet kitchen design experts will welcome you and work with you to ensure the best possible result.  
With a vast selection of choices from trusted German and British kitchen brands, you're likely to discover the perfect kitchen to suit your lifestyle. We manage every aspect of the kitchen remodelling process, from the smallest visual details to skilled installation and fitting. Contact us today by phone or email to talk about your kitchen ideas and enjoy a stress-free kitchen planning experience!
Elstree Kitchen Showroom
At Sia Kitchens we know there's nothing like seeing and touching a product for getting a sense of how it's built and what it can do. As such, we welcome you into our Bushey kitchen showroom where you can fully explore our range of kitchen furniture, worktops, and appliances. Please book ahead of your visit to take advantage of our free expert kitchen design service.
Opening Hours
Monday-Friday: 9am – 6pm
Wednesdays & Sundays: By appointment only
Saturday: 10am – 5pm
Sia Kitchens Service Areas
Kitchen Showroom Amenities
Our kitchen showroom is fully equipped to welcome all visitors. We have private on-site parking a short distance from the showroom entrance.
Discover Our Range Of Styles