Luxury Finchley Kitchen Design Experts
Finchley Kitchen Design Experts in British and German Kitchens
Sia Kitchens should be your first choice when it comes to bespoke Finchley kitchen design experts. We provide quality kitchen design and installation services, working with you every step of the way to ensure you get a kitchen that you're completely satisfied with. At Sia Kitchens, we are experts in both German and British kitchen design, offering top luxury brands that are known for their effortless blend of form and functionality.
Our Finchley kitchen designers will create a design that reflects your kitchen needs and lifestyle. We know that you'll be spending lots of time in your kitchen, so we can offer the best advice when it comes to the right style, colour, fixtures and appliances for your kitchen habits. Our kitchen showroom near Finchley offers a wide variety, giving you the opportunity to find the perfect fit for your space!
Visit Our Kitchen Showroom Near Finchley
If you're planning a new kitchen but you're not sure where to start, a great way to get inspiration is by visiting our kitchen showroom in Elstree, Hertfordshire! Just a short trip away from Finchley, our kitchen showroom can provide you with everything you might be looking for in a new kitchen. We offer the most popular kitchen styles, including modern, Shaker, traditional and country, as well as handleless kitchens. Each style has unique benefits, and our Finchley kitchen design team will help you determine the best style for your space.
Our layout options range from U-shaped and L-shaped kitchens to spacious, open-plan kitchens or kitchens with islands. L-shaped kitchens are more ideal for someone with a smaller space, whereas a kitchen island can easily be implemented in a large kitchen. With so many options to choose from, you're bound to find something that perfectly suits your preferences at our kitchen showroom.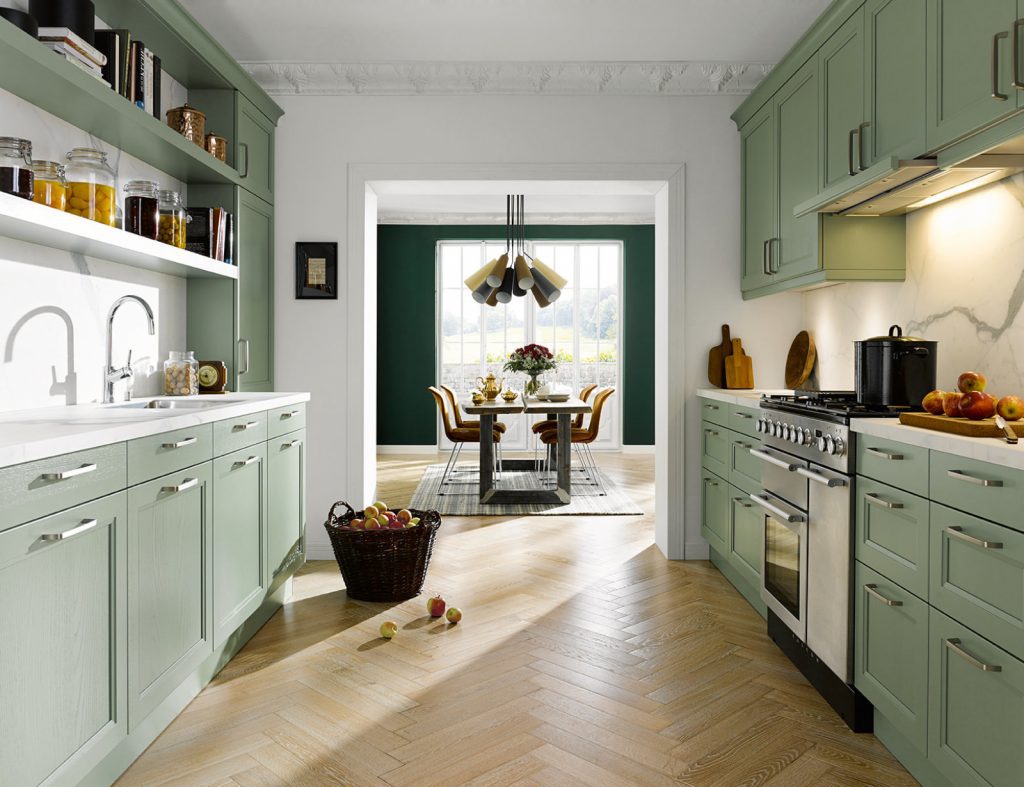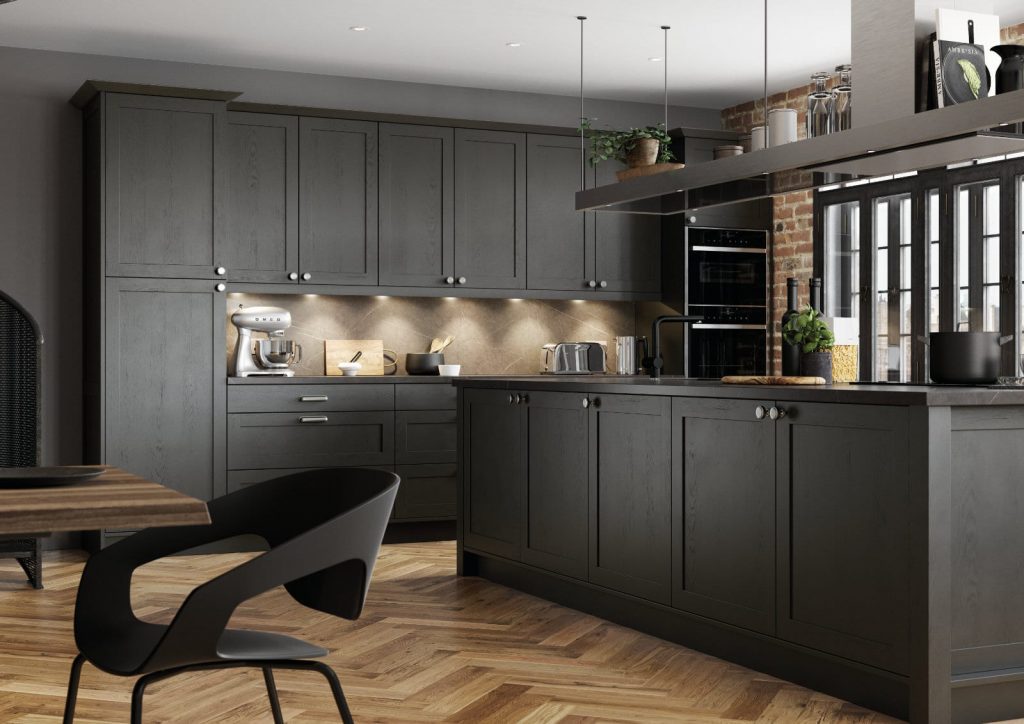 Fully Personalised Finchley Kitchen Design Service
When you make your first visit to our kitchen showroom, you'll be met by our friendly team of Finchley kitchen designers that can help make your kitchen dreams a reality. At Sia Kitchens, we have years of experience and in-depth knowledge about the industry. This guarantees that we can offer the best advice when it comes to choosing what your kitchen should look like.  
Alongside planning your style and layout, we can additionally offer expert advice in terms of kitchen fixtures and appliances, and how to set a realistic budget for your new kitchen. Our Finchley kitchen design experts will ask a series of questions to determine how you'll use your kitchen, resulting in a final product that's tailored to your lifestyle. After your initial visit, we'll produce a full colour design for you to envision what your kitchen will look like. From there, we'll make necessary changes and listen to your input every step of the way!
Expert Finchley Kitchen Installation Services
At Sia Kitchens, we pride ourselves on offering a fully personalised kitchen service, from start to finish. This means that beyond designing your new kitchen, we'll also accompany you throughout the kitchen installation and remodelling process. We offer kitchens on a supply-only basis, or we can provide you with expert craftsmen that will carry out a dry fit installation.
One advantage of hiring a local kitchen designer like ourselves is that our Finchley kitchen design experts and fitters have extensive knowledge of our trusted brands and know how to work with the materials. This ensures that they have the correct skills and know-how to efficiently carry out your kitchen installation while you can relax and have a stress-free kitchen planning experience.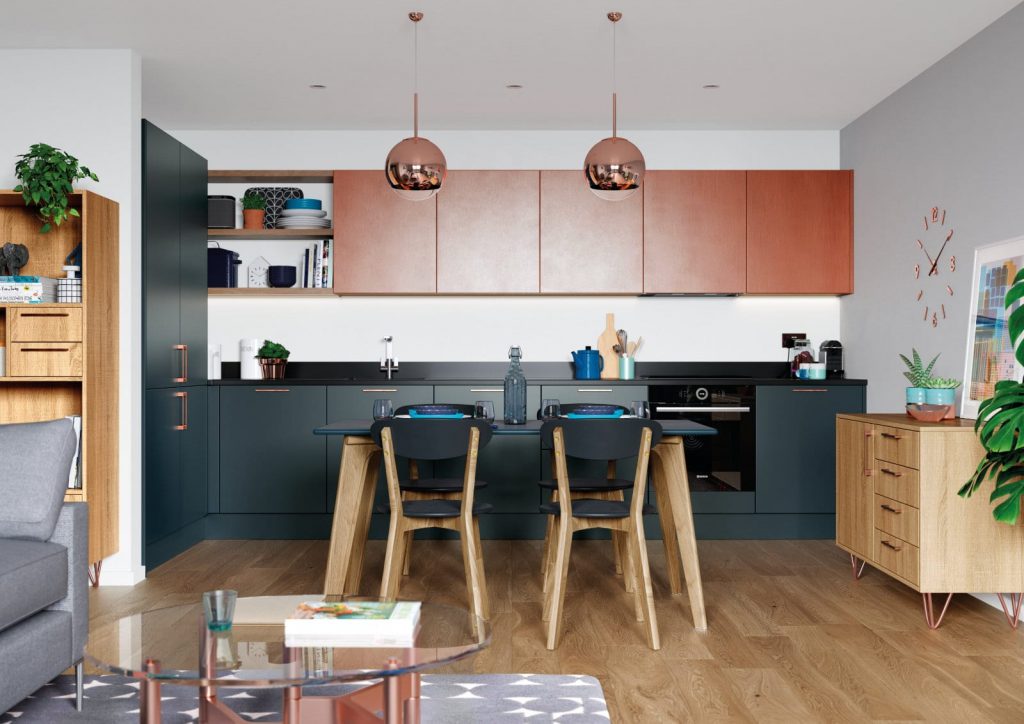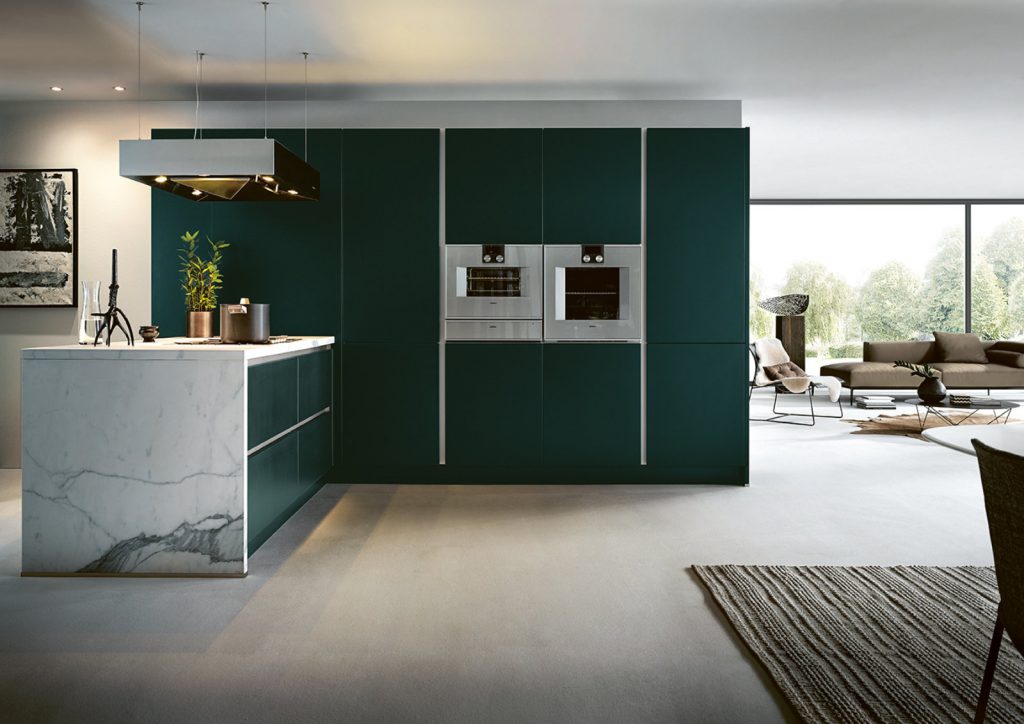 Get Specialised Advice on Work Surface Brands and Materials
At Sia Kitchens, our Finchley kitchen design team can help you choose the best worktop materials and advise on which work surfaces would be the right fit for your new kitchen. We offer a range of different materials, including laminate, quartz, sintered stone, wood, Corian and stainless steel. If you're looking for an extremely durable and long-lasting worktop material, we'll recommend one of our sintered stone brands, which include Dekton, Neolith and Lapitech. Alternatively, you can go for quartz worktops, which are known for their stunning, glossy surfaces and resistance to stains and scratches.
If you're looking for natural stone surfaces for your new kitchen, you can also opt for granite or marble worktops. Both offer a timeless look and have enjoyed popularity for many years due to their unique designs – no two granite worktops will ever be the same! Natural stone surfaces work particularly well in traditional or Shaker style kitchens. If you're working with a smaller budget, our Finchley kitchen design experts might recommend laminate work surfaces. These are available in a wide variety of different colours and finishes, meaning they can be adapted to practically any kitchen design!
Discover the Benefits of German Kitchen Engineering
Our Sia Kitchens Finchley kitchen design experts work with some of the best rapidly growing German kitchen brands on the market to bring you the latest and greatest in kitchen design. German kitchens are known for their incredible durability and functionality, while still offering the stylish and classy touch you might be looking for. Our German kitchen brands include Schuller Kitchens and Next125. Both offer a wide range of options for you to choose from, with each kitchen unit manufactured and engineered to the highest standard. They're also committed to helping the environment and their kitchens are carbon-free, allowing you to have a more eco-friendly home.
Contact Sia Kitchens' Finchley Design Experts Today!
Are you ready to start your new kitchen journey? We know that planning a new kitchen can be daunting, and that's why we're here to help and offer our expert advice! At Sia Kitchens, our Finchley kitchen design experts can help you find the perfect kitchen for your household and lifestyle among our extensive range of luxury kitchens. Our stunning Elstree kitchen showroom near Finchley can inspire you and get you excited to start planning your brand new kitchen! Contact us by phone or email today to book your design consultation and take the first step towards the kitchen you've always wanted.
Elstree Kitchen Showroom
At Sia Kitchens we know there's nothing like seeing and touching a product for getting a sense of how it's built and what it can do. As such, we welcome you into our Bushey kitchen showroom where you can fully explore our range of kitchen furniture, worktops, and appliances. Please book ahead of your visit to take advantage of our free expert kitchen design service.
Opening Hours
Monday-Friday: 9am – 6pm
Wednesdays & Sundays: By appointment only
Saturday: 10am – 5pm
Sia Kitchens Service Areas
Kitchen Showroom Amenities
Our kitchen showroom is fully equipped to welcome all visitors. We have private on-site parking a short distance from the showroom entrance.
Discover Our Range Of Styles